What is Freight Factoring?
Freight Factoring allows trucking companies to receive fast cash flow for work completed. Bay View Funding, a freight factoring company, will purchase outstanding invoices (accounts receivable) and then fund the carrier for the purchased invoices.
Questions? Contact Bob Hinson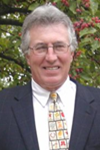 Feel free to call me direct:
Bob joins Bay View Funding with over 30 years of financial sales, marketing and credit experience. Most recently, Bob was Regional Vice President of Sales for a commercial finance company. Prior to that, Bob was Senior Account Representative for another factor.