Industries we serve
Transportation | Manufacturing | Distribution | Government Contracts | Service Providers | Staffing | Consulting | Janitorial Services | Oil & Gas | Wholesale | Technology | Advertising | Security | Pharmaceuticals | And More!
Questions? Contact Lee Ahumada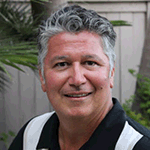 Feel free to call me direct:

Lee joins Bay View Funding with over 25 years of financial sales and marketing experience. For that past six years, Lee was a Senior Business Development Officer at a Southern California factoring company. Prior to that, Lee was a mortgage broker.