Industries we serve
Transportation | Manufacturing | Distribution | Government Contracts | Service Providers | Staffing | Consulting | Janitorial Services | Oil & Gas | Wholesale | Technology | Advertising | Security | Pharmaceuticals | And More!
Questions? Contact Seth Herman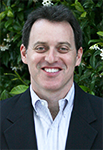 Feel free to call me direct:
818-346-4102

Seth Herman is Bay View Funding's Senior Vice President and National Sales Manager, and has been a part of Bay View Funding for almost 15 years. Seth brings almost 30 years of factoring experience including but not limited to credit analysis, portfolio management, underwriting and business development.