Industries we serve
Transportation | Manufacturing | Distribution | Government Contracts | Service Providers | Staffing | Consulting | Janitorial Services | Oil & Gas | Wholesale | Technology | Advertising | Security | Pharmaceuticals | And More!
Questions? Contact Steve Barthol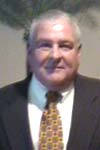 Feel free to call me direct:
913-681-1400

Steve Barthol heads up Bay View Funding's sales in the territory including and surrounding the Central States from sea to shining shore. Steve has been employed in the commercial finance business for over 25 years, working in factoring as well as other specialties.