What is the Payroll Advance Program for Staffing Agencies?

The Payroll Advance Program is a fast, simple, and effective way of ensuring your staff is paid on time every time.
Payroll is due on Friday

Unpaid invoices from your customers will not be paid until the end of the month

Cash flow is a challenge

You have the best staff and you want to keep it that way

How will you pay your staff?
Have access to your funds on Monday for payroll due on Friday. Up to two days faster than many payroll factoring companies providing a similar service; giving you more time to take care of payroll and other operating expenses.
---
Earlier Access to Cash for Staffing Agencies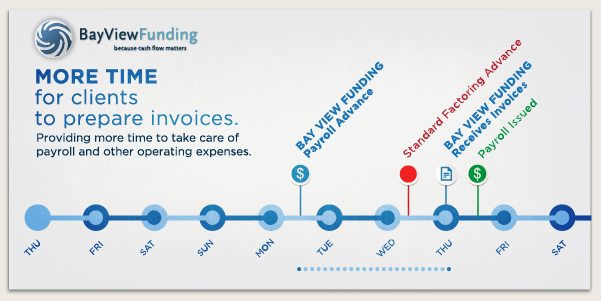 ---
Payroll Factoring Solutions -
How can you get the working capital you need to attract and retain great talent?
Submit your invoices and receive cash instantly
Rates are as low as 0.5%*
Send invoices electronically – funding from copies
A reliable credit line of up to $15M
Keep up to date with your account