There is nothing like a success story to emphasize the effectiveness of a service. In this instance, the service is a commercial funding solution known as invoice factoring.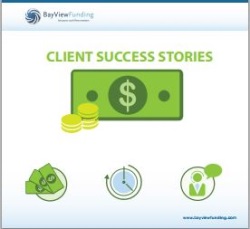 Invoice factoring is a form of working capital financing that can help many businesses. The process is simple and provides quick and efficient accounts receivable financing when you need it. Rather than waiting for invoices to be paid tomorrow, a factor will purchase them today, giving you instant access to your working capital.
Finding the most effective and successful answers to specific financial challenges is extremely important to Glen Shu, President of Bay View Funding, "Our ultimate goal is to partner with businesses to help them thrive and grow. We develop custom solutions using invoice factoring, and approach each challenge with passion and dedication."
Many companies contact Bay View Funding on a daily basis, from many different industries with questions about how this form of commercial financing works. While they may have a strong understanding of the importance of cash flow management, they still find themselves experiencing cash flow challenges that can most certainly be addressed using invoice factoring.
These two success stories are part of a compilation of examples from a helpful guide highlighting specific scenarios where Bay View Funding was able to provide solutions to specific client problems. They help tell the invoice-factoring story, and explore the unique way an experienced factor can help your business succeed.
A staffing company was using an asset-based lender who was unable to offer an increased line of credit. The staffing company was extremely successful, and there appeared to be no apparent reason for the denial. The result of the denial for extra funds was that the company began to experience a shortfall in payroll, and struggled with payments for taxes. The good news was that the company had a high amount of accounts receivables and Bay View Funding was able to provide accounts receivable financing. This meant they could catch up with their payroll and payroll tax responsibilities. The staffing company continues to grow.
A trucking company with a high volume of accounts receivable was challenged when it came to how they were able to accept financing. Due to their unique requirements, it was hard for them to qualify for invoice factoring. Bay View Funding built a strong relationship with this client, and was able to find an answer to meet their needs. A new and individual financing method was created to quickly and efficiently handle their invoices.
Invoice factoring can provide many benefits, among them being the ability to help start-ups become established businesses, and helping larger businesses expand, diversify and grow. Bay View Funding can help you explore ways in which invoice factoring may be able to help your business succeed.