As we work through our rushed week, cramming into four days what needed to be accomplished in five; remembering with happiness the long weekend but at the same time wishing time would stand still so we could catch up, we should all take a moment to breathe, open our peripheral vision and reflect a little.
This past Memorial Day was, for many, a time to remember all our fallen heroes who have given their lives in the service of their country. Whatever your political views, the truth remains that many have died and many will surely follow while protecting our country and keeping us safe.
I recently visited Arlington National Cemetery, and was ensconced in the changing of the guard ceremony, capturing several images depicting the strength and devotion of the Tomb Guard devoted to honoring all American service members who are "known but to God."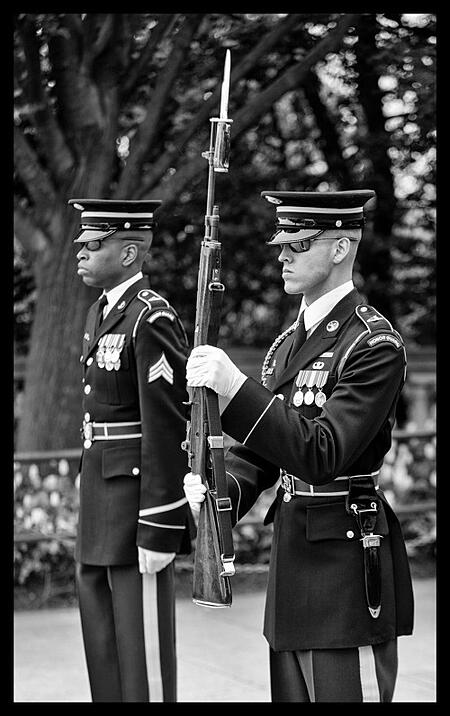 How does this relate to business? To me it is a lesson in the importance of avoiding the frantic and remembering the bigger picture. Each day we come to work worried about meetings and making sure we complete all our tasks and keep our customers, bosses, and employees, happy, motivated and wanting more. Have we made enough money, are we successful? Of course all of these things are important, but taking a moment to stop, remove the required hat of the hour, and contemplate the bigger picture, can go a long way toward making our responsibilities easier to manage.
Many small business owners bear the responsibility for a variety of roles within their company, from working capital needs to employee happiness. It is worth taking time to evaluate your goals and check if your business is heading down the right path. Often we run around in circles, trying to make the right decisions, and this is when a moment of reflection serves us well. Consider hiring a veteran the next time you have a position to fill. Not only will you be supporting your country, you will be taking advantage of strong values, leadership skills and teamwork experience. There are tax incentives too!
ABC News has wonderful images of events that took place on Memorial Day 2014. Please take a moment in your busy schedule to take a look. They certainly moved me to many different emotions.
Guest blogger Abbe Lyle is a freelance photographer, writer and Creative Director at Catalyst Marketing Group