As a wholesaler, your goal is to provide as much inventory to your resellers as possible in preparation for Black Friday and the holidays to follow. Are you prepared?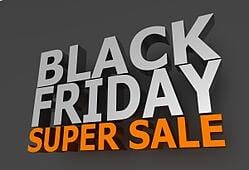 Throughout the year, obviously, careful planning is necessary to ensure the right amounts of product are delivered to your customers at the right time. There is no doubt that juggling the unpredictable elements of consumer demand, holding the right inventory, and anticipating the needs of your customers, can be difficult. These challenges are highlighted during the seasonal rush. So Black Friday is around the corner. What are some of the strategies your company can employ to make this year a success for your retailers?
Make sure the shelves of your retailers are filled with the correct inventory. This involves careful warehouse planning. Be aware in advance of any potential hiccups in the production process. This is not the time for an unwelcome surprise of incomplete shipments that would make your resellers unhappy. Accurately providing the correct inventory to your customers is key to their happiness, and the likelihood of more orders to follow. If product can be delivered earlier than planned that is always a bonus, then you know you have fulfilled your commitments.
In an earlier blog, we discussed being prepared for a large seasonal order. This can also be turned around in your favor by offering extended terms to your customers which can encourage them to take product off your hands before they really need it. This means unsold product is not sitting in storage, taking up valuable space. The problem here can often be that your company is not in a strong position to offer extended terms, as your cash flow would potentially take a hit.
In this instance, offering extended terms means that you know you have plenty of outstanding invoices to be paid. An excellent cash flow tool is a form of commercial financing known as invoice factoring. Receiving an advance on your accounts receivable enables you to offer extended credit in time for the holiday rush. This benefits you and your customers, giving you both some breathing space during this hectic time of year. Many Invoice Factoring companies specialize in wholesale financing and are acutely aware of your pain points and needs when it comes to cash flow management.
There are many other benefits to your company also. The factor becomes your AR department for these transactions, further taking the worry out of payment collection. The application process is quick and easy. Once you are set up it is simple to use again and again. This form of funding is not only useful during the seasonal rush; it can be a regular and effective form of financing for your company.