Business owners frequently stress about not having enough time in the day to complete key operational tasks, or start new projects. Time is often a resource that is dismissed or seen in a negative light. We have all frequently heard the comment; "there are not enough hours in the day." So how can time be utilized more effectively when it comes to running your business?
In an informative HBR IdeaCast from Harvard Business Review, Andy O'Connell talks with Michael Mankins, a partner at Bain, and co-author of an article concerning time management entitled, "Your Scarcest Resource." An interesting fact that is discussed is that many large organizations have very little idea about how their executives and teams are actually spending time at work. Mankin says that if you know the load you are putting on your company as an executive, your employees can actually manage their time more effectively. When it comes to meetings, he says they should be used for:
Information sharing
Discussion and debate
Decision making
Also, it is important to decide from a time management point of view, which employees need to attend meetings. Mankin believes that discipline around meetings needs to come from the top. He says that their research has found that once a meeting reaches over seven individuals, the effectiveness of the meeting goes down by 10%
From a small business perspective, small business owners were asked by the NFIB how they spend their time, and NFIB produced a great infographic (click below) describing the tendency for small business owners to give in to the many interruptions of the day, not taking enough vacation time, and simply wearing too many hats. Time is not managed effectively.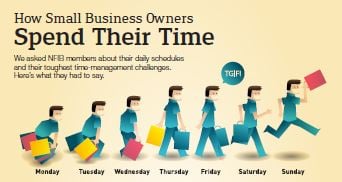 If you were to ask your employees if they are individually satisfied with their time management, what do you think they would say? McKinsey and Company suggest that time management should be a priority. There are 'four flavors of frustration' when it comes executives who are dissatisfied with their time management:
Online Junkie
Schmoozer
Cheerleader
Firefighter
The article provides an interesting interactive map indicating the different levels of frustration for each type of executive.
Does your company squander time during the day? Is time management something you even consider? Make your meetings more productive, cut down on unnecessary communication, and be aware that unproductive use of time can have serious financial implications. Set a goal to accomplish more within your organization in a shorter period of time.