There are many benefits to working with the federal government, such as guaranteed payment and no shortage of work, but it is not always easy to get started. So how should your trucking company go about obtaining government contracts?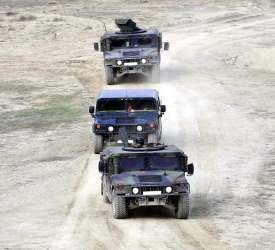 We know that the government requires the services of transportation companies to haul a multitude of specialist items, from tanks to vital supplies and everything in between. Some of these items need security clearance, so bear in mind that if you are not already cleared to carry weapons and ammunition the process for this specific type of transportation work can be long and involve plenty of paperwork.
Many contracts can be found through two government departments, the General Services Administration, which organizes much of the shipping for the executive branch, and the Department of Defense. Additionally, Sam.gov is part of the General Services Administration, and enables a search of active federal opportunities. Not all of the contracts listed on the DOD or Sam.gov websites are relevant to transportation, but a quick look can determine those that fit the bill.
When it comes to winning bids from the Department of Defense, it helps to have a solid understanding of military procedures and terminology. Many companies consider hiring an expert to help with the process, or employing someone with a military background. The DPAP or Defense Procurement and Acquisition Policy site explains clearly the necessary rules, procedures and qualifications needed to work with the Department of Defense.
There is a great deal of competition in the trucking industry in general, so the ability to outbid the competition and clearly decipher the specific requirements of any contract is extremely important. A firm understanding of your costs, and how to write up a bid is also essential. This Houston Chronicle article breaks down all the necessary calculations and projections you'll need to lay the foundation to obtain a trucking business contract bid. While this is more applicable to general trucking contract bids, the advice is also applicable to federal contracts.
When it comes to billing the government, make sure your invoices are accurate, as payment will generally take some time, even with no errors. The government will always pay eventually, but slow payment can create a cash flow problem for smaller businesses. Bay View Funding specializes in providing financing for government contracts and for the trucking industry. The team of experts has specialized experience in navigating the process of government contracting. Contact Bay View Funding to keep your cash flow flowing as well as provide pro tips for working with the government.
---
Editor's note: Because government contracts for transportation firms continue to be big business, an earlier version of this blog from 2015 was updated in 2020 for accuracy and to reflect new information.