Cash flow challenges frequently present huge problems for businesses, and can be crippling when there is no immediate financial solution on the horizon. There are many reasons for a cash flow challenge, but a limited number of ways to combat the problem.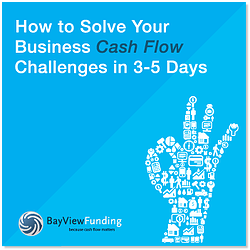 A cash flow problem is the result of your business spending more money each month than is readily available. Many business owners attempt a temporary fix with a private cash injection that will also need to be paid back in time. Once a business starts on this cycle, it is creating the potential for greater cash flow issues in the future.
Companies that make a healthy profit can still experience a cash flow crunch when payment is delayed from customers. There are many reasons for this delay in payment, some of which include:
Products shipping later than planned
Suppliers unexpectedly running low on inventory causing them to be unable to fulfill your order
Invoices sent out incorrectly and then need to be resubmitted
Customers who have not been vetted for credit history paying late or not at all
Once your customers start paying late, whatever the reason, it is easy to fall behind on your financial obligations, and hard to know where to turn. Knowing that the money is eventually coming in is not enough of a guarantee to pay the rent, your employees or your suppliers. Your company may have been counting on help from an original source of funding such as a bank, but there can be plenty of reasons the bank says no to a loan.
Your line of credit is maxed out and the bank is not willing to increase the amount.
You simply cannot qualify for a business loan because you have not been in business long enough, or your corporate credit rating is not strong enough to meet the bank requirements.
There is help available. The commercial finance company, Bay View Funding, has a form of commercial funding that can help answer your cash flow challenges. The expert team has recently come up a concise guide that explains in simple terms how a form of business financing can help provide an answer.
The guide will take you through several steps, and answer many questions.
How this financing solution works
The process involved
The benefits
What it costs
How to get started
Bay View Funding also offers several additional special programs in specific industries to further help keep the cash flowing. With quick approval, and low rates, Bay View Funding can help solve your business cash flow challenges and get cash into your hands in as little as 3 – 5 days!