It can be frustrating when your business is technically making a profit, but you still aren't able to pay your bills. Cash flow is a problem that affects developing businesses of all sizes. There are a few options open to a company faced with a shortage of cash. Typically, when cash flow slows, businesses turn to banks and finance companies. Unfortunately, using credit to run your business is risky. It is not a long-term solution.
Luckily, there is a simple solution to this problem: invoice factoring.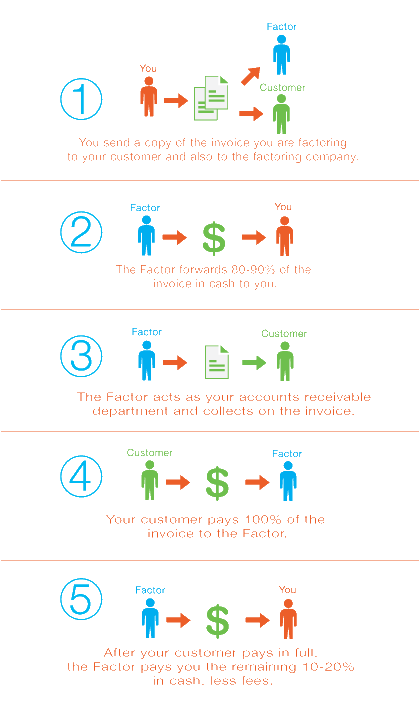 Invoice factoring is the process of selling a particular asset, in this case your accounts receivable, to an outside company for slightly less than what it's worth in exchange for cash right away. Getting the money that you are owed can sometimes be a lengthy process, but you can get cash for your accounts receivable in 10 days or less. Often in as little as 24 hours!

How Factoring Works
Invoice factoring is a simple process providing quick and efficient accounts receivable financing when you need it. Once your invoices are submitted to a invoice factoring company, they will simply verify them and provide the cash in as little as 24 hours. Rather than waiting 60, 90, or 120 days for invoices to be paid, invoice factoring provides a quicker solution.

Advantages of Invoice Factoring
The greatest benefit of invoice factoring is that you get your money quickly. That can be a lifesaver for a company that is experiencing an inconsistent cash flow.

With factoring, if your sales grow drastically, so does the amount you receive. With credit cards and bank loans, you are usually limited to a certain amount of credit, despite the growth your company may be experiencing.

Also, there is no credit check for factoring like there is for credit cards and bank loans. Qualification for factoring is based upon your customers' credit, not yours.

Deciding Whether Factoring is Right for Your Business
As a business owner, you know your company better than anyone. You know if your company will truly benefit from the monetary advantages and flexibility of factoring.

When making your decision, carefully consider these important aspects about the factoring companies themselves:
Reliability. Choose the best factor to work with your business. The reliability of a factoring company is crucial. Ask others in your industry who have used factoring. Request references. A trustworthy company has several long-term clients and a good credit history.

Experience. Note the factor's track record. Have they been around for a long time? Do they have a diverse, well-rounded portfolio? What about the their previous clients? Did their businesses show signs of improvement after factoring? A good factoring company is established, and can demonstrate financial stability.

Expertise. Each industry has its own unique needs and challenges. Good factoring companies possess a working knowledge of the industries they serve. And they know the specific ways to help their clients manage their finances…promoting growth.
Invoice factoring can be a great benefit to companies that need their cash sooner than they are getting it from their clients. Carefully consider invoice factoring and decide if it is right for your company.
While conducting your due diligence, you may have additional questions. At Bay View Funding, we've helped businesses just like yours to understand invoice factoring as a useful tool for success, since 1985.
Our veteran team of factoring professionals is standing by to help you get the answers you need. Contact us here or call (888) 299-9993.