More and more women are entering the workforce in a variety of roles; some are starting their own businesses, while others are looking for support and encouragement as they climb the company ladder. There are many resources, from financial advice to mentoring programs available to help women succeed in business.
A recent article in the New York Times, overcoming the confidence gap for women, makes the observation that despite findings that rate women highly as business leaders, they still represent less than 5 percent of the chief executives of the largest companies, and about 15 percent of senior executives. The article suggests that many women struggle to envision themselves as leaders, and undervalue their own strengths. Women are, however learning from each other. The Mentoring Women's Network has started a movement to "Pass the Torch for Women." The aim is to mentor, empower and inspire women in business.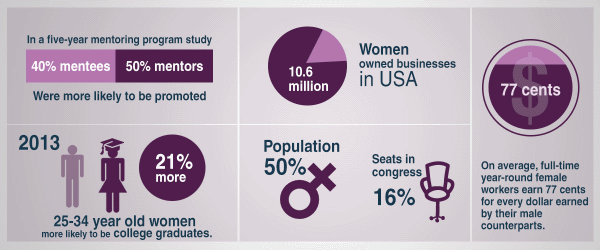 Image courtesy of mentoringwomensnetwork.com
Adam Bryant, the New York Times Corner Office columnist, speaks regularly with women executives about leadership, management and success in business. Prominent successful businesswomen share their stories in the hope of encouraging other women. Topics such as the necessity of failure, the importance of dreaming big, and leadership, to name but a few, are covered in the videos.
When it comes to women owned businesses, there are several resources available through the SBA to help women-owned businesses. Earlier this year, InnovateHER launched a business challenge to discover innovative products and services that help impact and empower the lives of women and families. The challenge runs yearly with the finalists pitching live in Washington D.C. before a panel of judges. InnovateHER sponsor, Microsoft, provides the prize money totaling $30,000. The SBA also has several Women's Business Centers (WBCs) designed to assist women in starting and growing small businesses. The SBA can help with loan programs designed for specific purposes, and help women compete for federal contracting opportunities.
Healthy cash flow is vital for any business. If your women owned business is struggling with cash flow, it is worth considering the many financing options available, through the SBC, the bank or other alternative financing sources. If you are struggling with late paying customers, accounts receivable financing may be an excellent option to consider. If you have a healthy amount of sales per month, and are offering your customers payment terms, invoice factoring can help you get the funding you need, and also serve as your credit department. Women owned business financing does not need to be an uphill struggle.