Small businesses appear to be more reticent about borrowing money. Since the recession, they do not want to take on too much debt and risk the possibility of losing everything. However, loans are available, with the right help and guidance from the bank or other financial institutions.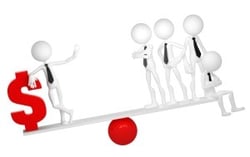 A recent article in CBS news explains the reticence. It reports that the National Federation of Small Businesses (NFIB) found that 50% of small business owners surveyed said that they did not want a loan. They are worried about the following:
Taking on too much debt and owing too much money

Unpredictable government policies

Interest hikes from the Federal Reserve
The consensus according to the NFIB is that some small businesses are simply worried about repeating any mistakes they made before the recession in taking on too much debt. With a certain amount of lingering uncertainty about the continued growth of the economy, some businesses feel that it pays to be cautious. However, there are plenty of small loans available for those businesses able to qualify, and who are willing to take on a small business loan to help them grow
The SBA has seen an increase in loans overall. They offer many programs to help small businesses grow. While the SBA does not offer loans directly, it sets the guidelines for loans, which are then made by their partners. The SBA guarantees the loans will be repaid, which helps reduce the amount of risk taken by lending partners. The SBA wants to see small businesses grow, and will continue to zero out fees through 2015 on loans of under $150,000.00 for certain borrowers.
Many small businesses are also aware of how easy it is for banks and other financial institutions to withdraw, or reduce lines of credit. Many companies prefer to work with a 'pay as you go' system, rather than keep up with loan payments and risk losing lines of credit. Other forms of financing are becoming more popular. They may potentially be more costly in the short term, but provide an efficient answer for some applications. One such application, invoice factoring, means not having to borrow money, but rather receiving an advance on outstanding accounts receivable.