Bay View Funding Focuses on Success
When it comes to the business of invoice factoring, Bay View Funding is there to help. With consistent successes when it comes to financial problem solving, and personal service, the dedication is apparent from the moment you walk through the door. Bay View Funding works with a variety of different clients each with their own frustrations and challenges when it comes to cash flow, and they love tackling those challenges.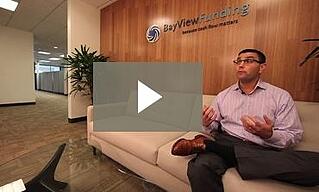 But why choose Bay View Funding? Firstly, they are able to address the basic challenges such as small business owners wearing many different hats, and not always having enough time in the day to deal with the financing side of the business. Most importantly, they enjoy going the extra mile for clients, solving problems that many companies would choose not to tackle.
Andrew Aquino, Executive Vice President, shares a great client success story on their video explaining how invoice factoring can help businesses. The story involves a food importer and distributor. This company imports a variety of different foods that they sell into retail networks and other distribution channels. The company finally won a large contract, but was frustrated as they were unable to fulfill orders due to their supplier requiring payment before releasing product. Normally, Bay View Funding would provide financing once the invoices were generated, but since the supplier was looking for payment upfront this would not work for their client. They were able to work with both their client and the supplier to find a working agreement whereby the supplier was comfortable supplying product and then receiving payment from Bay View Funding once the invoices were financed. The team at Bay View Funding continues to work closely with this client, allowing them to focus on growth and sales. It most certainly pays to be prepared for large orders!
Focusing, and understanding the key needs of each customer, and addressing specific industry challenges is extremely important to the whole team, from Glen Shu, President, right through to the account executives who play a key role with all customers, guiding them though the process to ensure that all questions are answered, and needs are met.
Understanding the factoring process as it relates to them
Obtaining funding as quickly as possible
Providing one dedicated point of contact
Glen also shares a great small staffing company success story concerning a client who was providing temporary staffing employees within her local community. She had the opportunity to take on a very large customer that would take her to the next level. The challenge was that she did not have the working capital required to hire the recruiters to fulfill that new opportunity. Because of the invoice factoring services Bay View Funding was able to supply, she was able to receive the cash flow she needed to find the people and fulfill the order, get the recruiters on board to fulfill the job and impress this new large customer. From that she grew to become a very large temporary staffing company. "We were able to help our partner client fulfill her dream and take her company to the next level. Really, that is what this is all about."