The demand for services from trucking companies continues to increase. How will your trucking company accommodate the rising demand? The future holds great opportunity, so what type of commercial financing solution would be the best for you?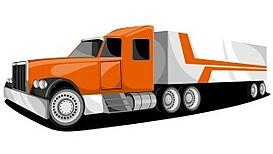 Enabling your business to grow so it can take advantage of new opportunities in the trucking market means ensuring you have adequate cash flow to cover all your operating costs and expenses. A commercial financing solution for the trucking industry, known as Freight Factoring allows trucking companies to receive immediate cash flow for work that has been completed. A freight factoring company will purchase outstanding invoices and then fund the carrier for the purchased invoices. Whether you are just starting out or have a mid-size to large fleet, freight factoring is a great answer for faster cash now.
It's not only about growth, however; having optimum cash flow means funds to cover many expenses, such as:
Purchasing new parts and equipment
Paying your drivers on time
Employing more truck drivers
Covering operating costs and daily expenses, like fuel and tolls, allowing you to also haul more loads
Small trucking business owners often wear many hats, and simply do not have the time to wait for a traditional bank loan. At Bay View Funding, our application process could not be easier:
More than this, we can also help with additional programs, such as a fuel advance program that provides you with a portion of your freight-factoring advance when you need it, before the load is delivered. The Fuel Advance program allows you to pay for fuel when you pick up the load. A percentage of the freight bill value can be quickly forwarded to you to cover the cost of fuel and enable delivery. All you need to provide is a bill of lading to show that the load has been picked up.
Don't let a slow payment trend from your customers stand in your way. Being prepared for growth means managing your cash flow, and we can help you do just that!