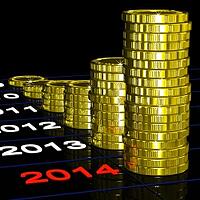 Latest government data indicates that the economy bounced back sharply in 2014. This economic improvement is projected to continue into 2015, which is great news for business.
The Bureau of Economic Analysis showed widespread growth across all industries in the second quarter of 2014. The figures indicated a shaky first quarter was succeeded by an annual rate increase in GDP of 4.6 percent. Leading contributors were durable-goods manufacturing, finance and insurance, and retail trade.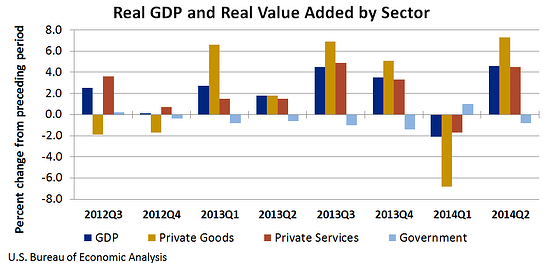 A recent NBC News article reports that the GDP continued to expand at a strong 5.0 percent annual rate in the third quarter, the fastest pace since the third quarter of 2003. And the news continues to be optimistic. The increase in jobs has lead to an increase in consumer spending, and therefore growth. While the recovery has been slow, and still has some way to go, the signs are encouraging. With plunging oil prices, low interest rates, an increase in auto sales, and an improvement in stock prices, businesses are in a good position to capitalize on the more stable market conditions. Strong consumer spending, and a record high in the consumer confidence index, is extremely encouraging for manufacturers, suppliers, and the retail market.
What is more encouraging is that small business bank loans seem to be easier to come by. An article in the New York Times references the upturn in the economy as the reason many small businesses are now looking to borrow money to grow. This is encouraging for those companies able to qualify for small business loans, but still leaves others unable to obtain more traditional forms of financing. This is where alternative forms of lending come in to play, and there are great options available. If your small business generates a high number of invoices, but has offered terms to it's customers that mean money is collected later than is optimum, your business may want to consider an effective commercial funding solution, known as invoice factoring.
Keeping up with the upturn in the economy can still be a challenge. More orders mean more business, but only if your cash flow is solid. Invoice factoring can provide the resources that allow start-ups to become established businesses, and help larger businesses expand, diversify and grow. Take advantage of the projected growth for 2015, and seek out the correct financing to help your business become a bigger success story in the New Year ahead.